Concrete Cleaning Services Houston Texas
HOUSTON DRIVEWAY AND PARKING LOT CLEANING
Pressure Washing America, LLC understands how to use the most effective techniques and the appropriate mix of detergents to properly clean so that mold and mildew are destroyed without damaging your concrete.
Our skill and expertise enable us to demolish all grime and dirt and kill all the mold and mildew in the most effective and efficient ways.
Of course, you want your driveway to look-like brand new, but within a few years of being poured, walking and driving surfaces will begin to accumulate mold, mildew, and dirt.
There is no unconditional way from preventing this. So, when you notice the discoloration and effects of mold you should give us a call. We specialize in concrete and we know how to solve these problems and maintain the appearance of your driveway.
Benefits of Cleaning Concrete:
Clean concrete improves the look of your home, it also increases safety and keeps the inside of your home or business cleaner as well. Just think of all the dirt, mold, and allergens that get tracked inside on the soles of shoes!
This can be especially important for commercial applications or walkways outside of shops where many people will walk daily.
The mold and mildew and spills will become slimy and slippery – especially when it rains. Our professional concrete cleaning in Houston can remove these hazards and keep the floors inside cleaner as well. Concrete surfaces are what many homeowners need to take care of but don't realize.
More than any other surfaces, your concrete driveway, and patio, as well as any walkways around your home, are exposed to hard natural elements and temperatures. However, they are not usually maintained adequately until they become unsightly.
Our pressure washing services are there to make your concrete shine again, but that is not all. Sure, a good-looking driveway may be appealing to the eye, but it is not the biggest benefit of our concrete washing service.
By pressure washing your concrete you can:
Make your property look nicer and become a lot safer.
Dispose of all bacteria, dirt, pollutants, and allergens that you end up transferring from your concrete to your house on the soles of your shoes.
Increase property's market value.
Spot cracks in your concrete and foundation easier and prevent costly repairs.
Best Results In Concrete Cleaning In Houston
Concrete is a porous material that can allow some stains to sink in and lasts forever. Performing low-pressure house washing is much easier because the stains on the house walls cannot penetrate the painted surface.
But cleaning concrete surfaces is a bit trickier. There are some concrete stains that are very difficult and sometimes impossible to clean.
Liquid such as oil, transmission fluid, cooking fats, and other stains will soak into the concrete quickly and will prove to be very challenging to most experienced pressure washing technicians. Other cleaning methods will also prove to be.
Cleaning methods besides pressure washing will prove ineffective in battling against these stains. Therefore, if you experience any of these issues – it is best to contact us as soon as possible so we can remove as much of the stain as possible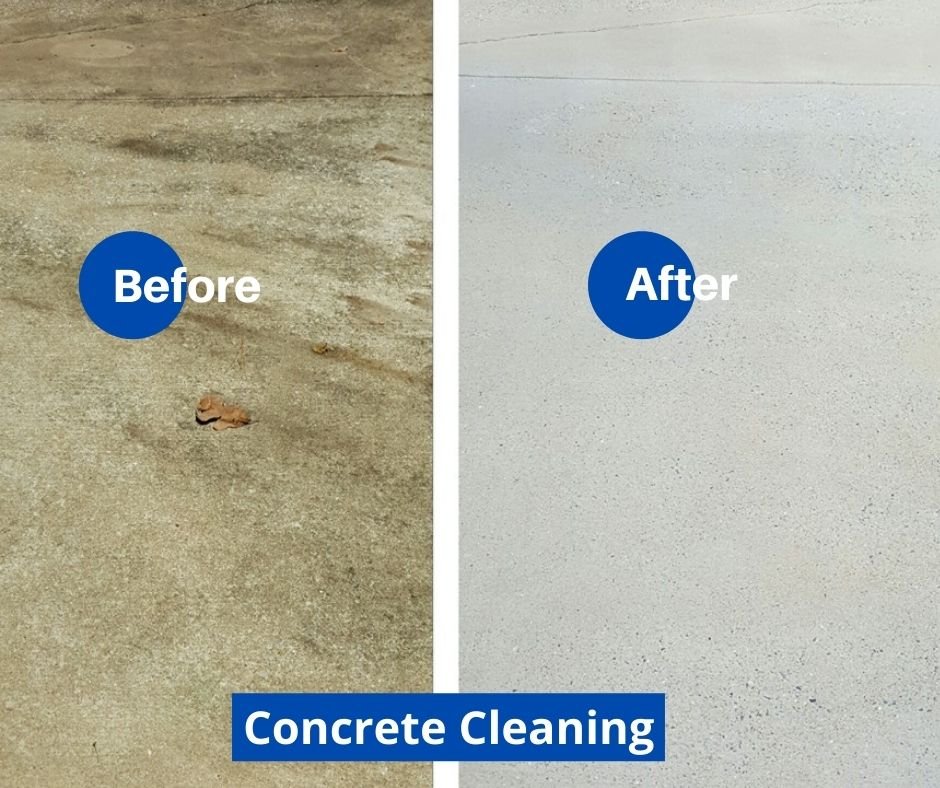 What Makes Us Special?
Organized and On-Time Concrete Cleaning Service

Eco-friendly mindset and cleaning process

Experienced in Removing Even the Toughest Stains

We Care About You and Your Experience Matters to Us
We pride ourselves on the ability to remove the toughest surface stains – and we can generally remove rust, chewing gum, and paint if needed – just let us know ahead of time, so we come extra prepared!
Contact us now for a no-pressure quote or just for more information about what we can do for you and your home or business.
Will getting my concrete pressure washed cause a mess?
Because it involves a large quantity of water, pressure washing is usually a clean process. However, if the concrete surface is located close to your property, some splashing may occur, and dirty water may splatter onto the nearby surfaces. Still, sometimes our pressure washing services involve a water recovery system that should eliminate the splashing.
Is Your Company Insured?
Of course. We love what we do, and we want to do it right! But accidents may happen to even the most experienced professionals.
Our customers can relax knowing that our technicians are not only highly-trained but also insured, giving them and their property some extra protection.
How Often Should I Wash My Driveway?
Even if you don't think your driveway is dirty, you should still consider pressure washing it at least once a year. Washing and sealing it once per year will keep your driveway protected from any organic dirt like moss and algae.
Also, anytime you notice your driveway becomes more slippery than usual, you should consider pressure washing it. The slippery quality comes from a build-up of grease and water and may cause many injuries.
How Long Will It Take For You To Pressure Wash My Concrete Driveway?
The time we spend pressure washing your concrete surfaces will always depend on the size of the surface.
However, it can also depend on the state of your concrete and additional steps we need to take before the actual pressure washing takes place.
For example, you may not have a big driveway, but there is a lot of moss and weed to remove from it before we even begin cleaning it. 
As for the estimate, it will take us around one hour to clean a four-car driveway. Still, it all depends on your driveway and the general state of your driveway.
Get a hassle-free quote
We respond in minutes