MISSOURI CITY'S MOST EXPERIENCED PRESSURE WASHING COMPANY
Locally Owned, Fully Insured and HUB Certified
We know that pressure washing HOUSTON looks like a fairly simple project but there is much more to it than meets the eye. Pressure Washing America, LLC uses the most up-to-date methods to make sure we deliver the cleanest results for residential as well as commercial properties.
We consider the complete satisfaction of all our clients as our top priority, and thus our attention to detail is second to none.
Top-Quality Residential Power Washing Services in Missouri City
Protect Your Properties Exterior Look With Our Services
No matter how good your new power washer is, cleaning your home is not a task for the faint-hearted. It takes a great amount of knowledge and skill to clean your property quickly and expertly, without damaging your home's exterior. 
That's why our residential cleaning services can be a much better solution for you. Our technicians are trained cleaning specialists who can achieve a deep cleaning that lasts longer.
There are many different materials around your house and using the same PSI for all of them can prove to be a grave error.
Our technicians provide outstanding residential power washing service precisely because they know how to clean different types of materials like stucco or siding by using a soft washing technique. This way you don't have to worry your home will be damaged in the process and can enjoy the final results of our cleaning service.
If you hire an inexperienced power washing service in Missouri City it is likely that your property will be left with some mold and mildew still alive – or worse!
In the wrong hands a pressure washer can easily damage many materials around your house, therefore, do not opt for the false savings and hire the best. Pounding stucco or siding with high pressure is a major no-no and even softer bricks can crumble and flake if attacked with high psi.
Top Commercial Power Washing Services In Missouri City
In business, curb appeal often means more customers, and having a clean building, one that is constantly looking new is likely to attract more potential clients.
Keeping your business property clean brings even more benefits than just making your business looking good. The grime and dirt combined with mildew can create an unhealthy environment for both your employees as well as your customers.
Things like mold, algae, and bird droppings are more than just visibly unappealing- they can actually damage the building, weaken the structure and cause rot.
With our commercial power washing service in Missouri City, you can prevent all this and restore your business property to its previous glory. Keeping your business building clean, healthy, and presentable becomes much easier with us. Using the latest cleaning techniques, as well as equipment we are ready to tackle any kind of commercial cleaning project.
Furthermore, our technicians are highly trained to carry out the task of cleaning your property, as well as fully insured while on the job. Contact us today and ensure you have a team of professionals cleaning your property in a safe and timely manner.
The lowest cost does not mean the best deal. When it comes to doing the job right, make use of the company that has nearly a decade of experience in getting commercial properties clean, safely and in a timely manner – contact us today.
EPA Compliant Power Cleaning Service
Following the EPA (Environmental Protection Agency) laws, we ensured both our residential and commercial power washing services utilize the best environmentally friendly and biodegradable solutions and detergents.
Cleaning your property to perfection may be our primary goal, but making sure we preserve our planet while doing so is our greatest feat.
Exceptional Window Cleaning Service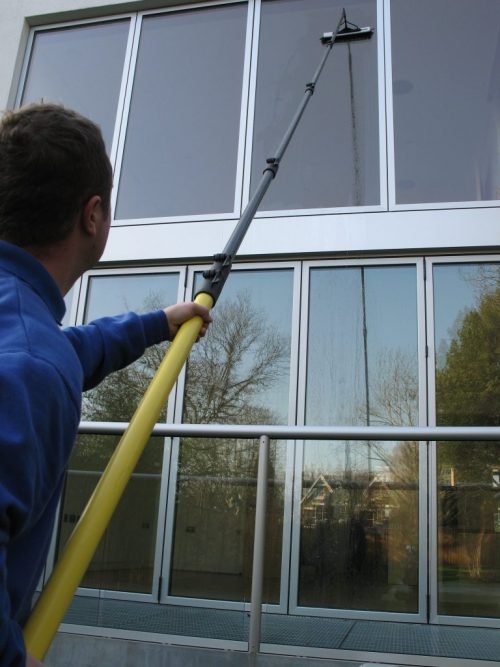 Window cleaning may look like a task easily completed by everyone, but when it comes to cleaning your windows, but also your screens and blinds, our window cleaning service is the best thing for your property.
Not only can we make your windows squeaky-clean and spotless, but we can also get rid of any dirt, mold, and mildew that's been hiding away in the cracks and profiles of your windows. Making your windows clean and creating a healthy environment for your home is what we do best.
Best Roof Cleaning Service in Missouri City
You may think that roof cleaning is unnecessary, but here are some of the benefits of our roof power washing service that will make you think again:
Curb Appeal: Having a sparkling home topped with a moldy roof is simply not a good look on any property. But with residential or commercial roof power cleaning service, you can make give your home a true makeover- top to bottom.
Preventing Damages: Moss and mold tend to build upon your roof and over time they can cause peeling, water damage, cracks, and overall deterioration of your roof. Power washing your roof prevents many costly repairs at a much smaller price while keeping the structure of your roof intact.
Hassle-Free:  Navigating a steep roof and cleaning it at the same time is not something an ordinary handyman can do. Our cleaning specialists are trained in handling this task like true professionals and clean your roof in a safe way, minimizing the risk of any accidents occurring.
Eco-Aware: Our principles of cleaning go beyond your property. We always make sure our tools and solutions, as well as any power washing techniques, are eco-friendly and non-toxic to animals and humans while we provide an exceptional roof cleaning service to our clients.
Pressure Washing America, LLC Missouri City
Pressure Washing America, LLC Missouri City

We respond in minutes:
  Contact Us